Dental implants in Brooklyn provide ideal options for teeth replacement. Your Brooklyn dental implant dentist has teeth implants to suit every need, from a tooth implant to fill a single space to low-cost dental implants that take the place of dentures. Dental implants remove worries about dental implant cost, and immediate implant placement removes any concerns about how long you need to wait for your dental implants. We use only the best quality medical grade titanium or titanium alloy for dental implants. Come to our dental implant clinic to receive the most efficient, functional, and highly esthetic results. Meet our cosmetic dentists in Brooklyn Alex and Igor Khabensky DDS to get the fastest & painless dental implant treatments.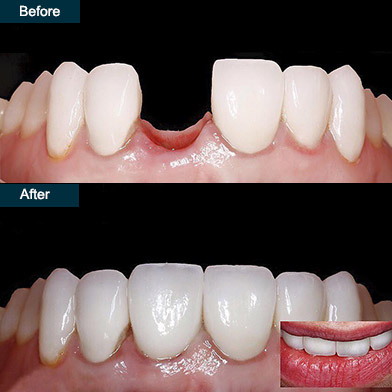 Dental implants have become the go-to teeth replacement option for patients in Brooklyn to achieve a winning smile makeover. Your talented cosmetic dentist in Brooklyn provides the services you need with the least amount of hassle.
Implant dentists at Family Cosmetic & Implant Dentistry of Brooklyn, named one of 2018 America's best dentists, take your comfort and convenience seriously.
Teeth implants have quickly taken the place of other, more traditional forms of teeth replacement, such as dentures and bridges. Now, you can get low-cost dental implants from a family dentist also trained and certified in cosmetic dentistry. Cheap dental implants don't eliminate the need for the more traditional teeth replacements, but they do give you options.
Dental Implant Choices in Brooklyn
Your Brooklyn cosmetic dentist offers you choices in affordable dental implants, including:
Nearly all teeth implants are sensible because they can be made to look like your natural teeth. And if you practice good oral hygiene, a tooth implant can last a lifetime. The dental implant cost becomes a solid investment when you consider the alternatives.
And because of the extensive experience your Brooklyn family dentist brings to teeth replacement, you have very few dental implant problems. When you do run into the rare exception, the team at Quentin Smile provides exceptional solutions quickly and efficiently.
Dental Implants Process
Your family dentist in Brooklyn first decides whether cheap dental implants are appropriate for you after a thorough exam. It helps that your dentist knows you and your oral history when it comes to recommending low-cost dental implants. He already knows your dental habits.
Sometimes, you may need to have a tooth pulled or a root canal before teeth implants are inserted. To anchor dental implants, posts made of titanium are implanted directly into your jawbone. During the healing process, which can take as long as three months, your bone grows around and encases the anchor.
When the first post is secure, another post is attached. This is called an abutment. It's the piece that anchors the crown, serving as your new tooth. Your dental implant cost depends on how many teeth are being inserted, what condition your mouth is in and what other dental services you need.
Your Brooklyn Family Dentist
Before, during and after you elect to get affordable dental implants, your Brooklyn dentist takes care of all your dental needs, including:
And because your team at Quentin Smile is certified as a member of the American Academy of Cosmetic Dentists, you have access to a slew of cosmetic treatments in addition to immediate implant placement. Procedures that may complement low-cost dental implants include:
Advantages of Quality Dental Implants from your Brooklyn Dentist
Dental implants may feel better and look more natural than other teeth replacement options, but the advantages extend even further. Consider:
A tooth implant is designed to fuse with your jaw. Eventually, it becomes indistinguishable from your natural teeth.
You won't have to experience the sometimes-difficult issues you may encounter with ill-fitting dentures. Even cheap dental implants from your Brooklyn cosmetic dentist are secure and stable.
Chewing is easier since affordable dental implants function just as effectively as your own teeth, allowing you to enjoy all your favorite foods.
You won't face the discomfort of bridges or even partial dentures as dental implants literally are a part of your mouth.
You enjoy better overall dental health because your low-cost dental implants help you keep more of your natural teeth.
Affordable dental implants are convenient and don't require that you use adhesives or special cleaners to maintain.
With a smile makeover that includes teeth implants, your self-esteem can soar and your confidence levels improve drastically.
Do you have any questions about the dental implants in Brooklyn? For more information or to schedule an appointment with the best implant dentist in Brooklyn Khabensky DDS of Family Cosmetic & Implants Dentistry of Brooklyn? Please contact our dental clinic for consultation with the implant dentists Alex and Igor Khabensky DDS.