Many dentists recommend implants as the first line of care for patients experiencing tooth loss or who have already lost teeth. With proper care and design, dental implant teeth should look and feel very natural and should work just like natural teeth. They are suitable for most people to replace single, multiple, or an entire mouth of teeth. At our implant center in Brooklyn, we offer the latest options including implant-supported crowns, bridges, and dentures, and use the highest quality Zirconium or Titanium posts for dental implants.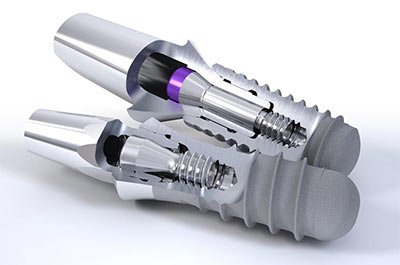 Tooth replacement is suitable for patients who have lost teeth due to disease or trauma. If your teeth and jaw have finished developing, you can get implants.
Learn more about our dental implant treatments in Brooklyn and other restorative dental services below.
Replacing a Single Tooth with a Dental Implant
For permanent replacement of a single tooth, an implant is your best option. It looks and works like your natural teeth. The steps to planning a single dental implant include:
Planning – Before the implant procedure, Dr. Khabensky takes a CT scan and dental x-rays. He uses them to determine the best position for your new teeth.
Treatment – Single tooth surgery with a local anesthetic requires a small gum incision. This will expose the bone. Your new tooth is then inserted into its planned location.
Healing cap – Dr. Khabensky places a healing cap over your new tooth.
Temporary tooth – At this stage, we can provide you with a temporary tooth. Wear this tooth while the dental cap heals. Once it has healed, Dr. Khabensky can fit your new crown.

Full-Mouth Reconstruction with Dental Implants
For advanced periodontal disease, we recommend full mouth reconstruction. This is also known as full mouth dental implants. This procedure is suitable for tooth decay. You may need full mouth repair if you have a trauma causing multiple tooth loss.
Dr. Khabensky has 23 years of experience in implant dentistry. In this time he became a respected and trusted provider of full mouth restoration.
After assessing the problem, Dr. Khabensky will begin planning treatment. Your treatment could include:
Having your teeth professionally cleaned
Treating any existing problems with periodontal disease
Crown lengthening procedures in preparation for placing dental crowns
Orthodontics to help move your teeth into optimal positions
Restoring lost gum tissue or bone in preparation for dental implants
Placing dental implants to support one or more missing teeth
Placing permanent restorations like crowns, porcelain teeth veneers, bridges and inlays and onlays

Denture Implants
One of the most common, effective, and cost-conscious procedures involves implant dentures. Multiple fixtures can be used to restore an entire arch of upper or lower teeth. You can replace both arches. Dental implants can hold a fixed or removable denture in place. This provides patients with teeth that are worlds apart from traditional dentures.
A crown, placed over your cap will support a fixed denture. Gum tissue helps create a more natural appearance. This gum tissue, made from ceramic materials, matches the crowns. Only a dentist can attach and remove fixed dentures.

Mini Dental Implants Placement in Our Brooklyn Office
Cosmetic dentist Dr. Khabensky is trained and experienced in the latest technology including mini dental implants. Our dental office offers mini implant posts if you don't have enough bone mass. Bone mass holds regular caps in place without undergoing bone graft surgery. Mini implants are similar in structure to regular ones but are smaller.
At Family Cosmetic & Implant Dentistry we no longer offer mini implants. According to multiple studies , mini implants pose higher failure rate. The failure rate is over 21%.
The size difference between traditional and mini dental implants is huge:
Mini implants range in size from 1.8 mm to 3.0 mm.
Regular implants typically measure 3.75 mm.

Factors Affecting Dental Implant Success
The availability of a quality alveolar bone is critical for success. It is crucial to ensure surgical implantation into optimal positions. This way your new teeth not only look natural but will function correctly. Poorly inserted teeth pose a risk of harming vital structures in the jawbone.
Dental Implant Costs and Questions For Implant Dentist
Dental Implants are increasingly becoming the treatment choice for replacing failing or missing teeth. They can be a much better option than conventional dentures or bridges. For many people, the cost of treatment might be a deterrent.
It's true that this treatment does cost a little more than dental bridges or dentures. Insurance does not cover implants.
In spite of the costs, 1.9 million Americans were fitted with one or more dental implants. Just a couple of years ago in 2018, that number was 1.6 million. Dentists regard the invention of artificial teeth as one of the most exciting developments. It is the best thing to happened to tooth care since the introduction of fluoride water.
Used for several decades, researchers have proven dental implant longevity. Implants placed during the mid-1980s are still in excellent condition. A recent review discovered that 95% of implants lasted 13 years or longer.
Extensive research has been done on dental implants since their introduction to the market. Improved design allows modern implants to integrate better with the jawbone. The new techniques help aid faster healing.
Why Doesn't Insurance Cover Dental Implants?
Most dental insurers regard dental implants as a cosmetic treatment. This is the case even with the given the potential benefits of this treatment.
It may be possible to claim the costs of a crown under your policy.
Check with your health provider if you can claim any of the costs of treatment.
How to Afford Dental Implant Treatment When Insurance Does Not Cover It
If your health provider will not meet the cost of your dental implant treatment or you don't have dental insurance, you will still probably find your dentist can help you.
Family Cosmetic & Implant Dentistry offers easy interest-free payment plans. These can spread out the cost of treatment. This makes it possible to receive your replacement teeth. Explore these options if you are considering dental implant treatment.
Tooth caps prove cost-effective in the long term thanks to their potential longevity.
How Much Do Dental Implants Cost?
The cost of treatment can vary depending on the skill and experience of your dentist. The work required also determines the cost. A single implant crown and associated procedures cost is $2000 or more.
Reputable dentists will provide you with a written treatment plan. This will detail the costs of your new teeth and all the work required. Check what the quote covers because you may need other procedures. These include a cone beam CT scan, the implant components, and implant crown. You will need a temporary crown or restoration while the implant heals.
Some people may require additional treatments such as bone grafts. This further treatment may be necessary if you lost teeth quite some time ago. Tooth loss from dental diseases, such as periodontitis, destroys the bone surrounding teeth.
What Can Make Dental Implants a Superior Choice of Treatment?
Dental implants offer several advantages compared with conventional tooth replacements. They are small titanium screws inserted into the jawbone. One of the most significant benefits is helping to prevent jawbone deterioration. Deterioration naturally occurs if you do not replace missing teeth.
Preventing Jawbone Deterioration
When you lose a natural tooth the entire tooth and tooth root needs removing. Your tooth root anchors your natural tooth in place. It provides a stimulus to the surrounding bone.
Without this stimulus, bone cells do not renew as they die off. This causes the jawbone to deteriorate.
Bone loss can destabilize teeth near the gap where multiple teeth are missing. It can affect the overall dimensions of your upper and lower jaw. These dimensions decrease and create a "collapsed in" look, which is aging.
Protecting and Preserving Natural Teeth
Your dentist must grind down your natural teeth to place a dental bridge. These teeth must be used to support the dental bridge. This helps the bridge anchor in place.
Dental crowns cover the adjacent teeth, called abutment teeth. Abutment teeth are attached to replacement teeth.
A dental bridge is a reliable and stable restoration. Having to reshape your teeth is not an ideal situation. If the teeth have decayed, reshaping is necessary. Your dentist will do this if dental crowns need protection.
Tooth caps protect natural teeth as there is no need to grind them down for support. Dental implants are self-supporting using titanium posts. Posts are inserted into the jawbone. They are strong enough to hold replacement crowns, bridges, or dentures.
Replacing missing teeth ensures your natural teeth will remain in position. The forces created during chewing and biting are more evenly spread over all your teeth, both natural and replacement.
Ensuring you bite equally on all your teeth helps prevent too much force placed just on your existing natural teeth. This force could wear or crack them.
A Versatile Treatment Choice
Dental implant treatment is versatile. You can choose from fixed or removable dental restorations.
These include large span bridges that attach in place. They can even replace an entire arch of teeth. Some people prefer to have a cap supported denture. This restores a complete span of upper or lower teeth or even both arches.
To hold dentures in place they are clipped onto the tooth caps. You can remove dentures for easy cleaning and maintenance. An implant-supported denture is a cost-effective way of gaining a new set of teeth. Your new teeth will feel strong and stable. They are designed to look natural.
For more information or to schedule an appointment with the implant dentists Igor or Alex Khabensky DDS please contact our dental implants center in Brooklyn for a consultation.