Dental implants are very versatile, and this is a treatment that is suitable for most people. Implant procedure can be used to replace single or multiple teeth, or an entire mouth of teeth. Options include implant-supported crowns, bridges, and dentures. It is a great choice for replacing missing teeth and is by far the most long-term solution.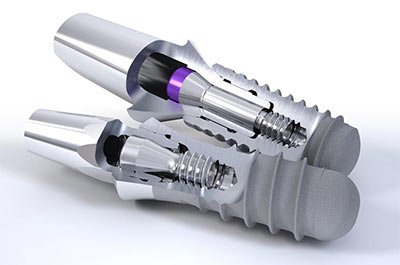 At our cosmetic dentistry center, we offer the best dental implants to patients in Brooklyn. We use only the highest quality Zirconia or Titanium posts for dental implants.
Tooth replacement procedure is suitable for patients who may have a missing or lost a single tooth due to disease or trauma. Implant treatment can be carried out on people whose teeth and jaws have finished developing.
Learn more about our dental implants in Brooklyn office and other restorative dental services below.
Replacing a Single Tooth with Dental Implant in Brooklyn
When it comes to permanent replacement of a single tooth, an implant is almost always your best option. It looks and works exactly like all of your other teeth. Multiple steps involve in planning a single tooth implants in Brooklyn:
Planning – Prior to implant procedure Dr. Khabensky take a CT scan and dental x-rays to determine the best position for your dental implant.
Treatment – Single tooth surgery can be carried out using a local anesthetic and requires a small gum incision, exposing the bone. After, carefully inserting the implant into its preplanned location.
Healing cap – Dr. Khabensky place a healing cap over the dental implant.
Temporary tooth – At this stage we can provide you with a temporary tooth to be worn while the implant heals. Once the implant has fully healed, Dr. Khabensky can fit your new crown.

Full-Mouth Reconstruction with Dental Implants in Brooklyn
Full mouth reconstruction or full mouth dental implants in Brooklyn is advised for someone who deal with more extensive dental problems such as advanced periodontal disease, tooth decay or some other kind of trauma that has resulted in multiple tooth loss.
Over the years Dr. Khabensky has become a respected and trusted provider of full mouth restoration in our Brooklyn dental implant office.
Once all the problems have been assessed by implant dentist Dr. Khabensky, it will be possible to begin planning treatment more fully. Your treatment could include:
Having your teeth professionally cleaned
Treating any existing problems with periodontal disease
Crown lengthening procedures in preparation for placing dental crowns
Orthodontics to help move your teeth into optimal positions
Restoring lost gum tissue or bone in preparation for dental implants
Placing dental implants to support one or more missing teeth
Placing permanent restorations like crowns, veneers, bridges and inlays and onlays

Denture Implants
One of the most common, effective and cost-conscious procedures in our Brooklyn office involves implant dentures. Multiple implants can be used to restore an entire arch of upper or lower teeth, or even both arches. Dental implants can firmly hold a fixed or removable denture in place, providing patients with teeth that are worlds apart from traditional dentures.
An implant supported fixed denture is held in place by crowns that fit onto the dental implants
but will also have some gum tissue to help create a more natural appearance. This gum tissue can
be made from ceramic materials to match the crowns. Just like a bridge, a fixed denture is firmly
attached to the dental implants and can only be removed by an implant dentist in Brooklyn like Dr. Khabensky.

Mini Dental Implants Placement in Our Brooklyn Office
Brooklyn cosmetic dentist Dr. Khabensky is fully trained and experienced in the latest implant technology including mini dental implants. At our Brooklyn dental implant office we are offering a mini implant posts if you don't have enough bone mass to hold regular implants in place without undergoing a bone graft surgery. Mini implants are similar in structure to regular implants but are slightly smaller.
The size differences between traditional and mini dental implants are huge:
Mini implants range in size from 1.8 mm to 3.0 mm.
Regular implants typically measure 3.75 mm.

Factors Affecting Dental Implant Success
Availability of good quality alveolar bone is critical for dental implant success. It is crucial to ensure your implants are inserted surgically into optimal positions so that your implant teeth not only look natural but will function correctly. Poorly inserted dental implants pose the risk and could harm vital structures in the jawbone.
For more information or to schedule an appointment with the implant dentists Igor or Alex Khabensky DDS please contact our dental implants center in Brooklyn for a FREE consultation.