Laser teeth whitening gives you the best results. Your teeth whitening dentist offers the best way to whiten teeth in Brooklyn in the comfort of the office. The Zoom whitening cost is worth the investment because you get the best results. Consider the professional teeth whitening cost as an investment in your future while giving your self-esteem a boost.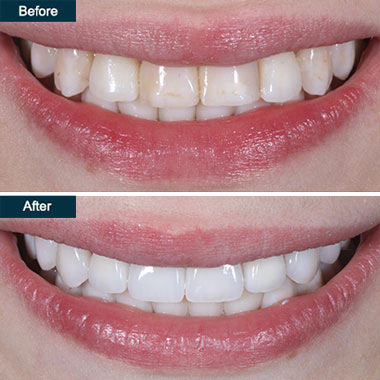 Laser whitening, New York style, is a highly regarded service for teeth enhancement. Our leading dentist Dr. Khabensky, DDS is pleased to offer you. A safe teeth whitening treatment with the Zoom whitening product is used at our clinic. While many gimmicks on the market promise white teeth smile, few deliver the sensational effects that just one Zoom care whitening does.
And it helps when you build a relationship with your best dentist in Brooklyn, who also is highly trained in cosmetic dentistry. That's because you can confide in your dentist and trust him to give you good advice when you're ready to explore options to improve your appearance dramatically.
How to Safely Whiten Teeth Fast With Zoom
With everything from whitening toothpaste and gel trays available as over-the-counter products, it can be difficult to choose the most effective teeth whitening methods to pursue. That's why you're well served to rely on our Zoom care team that provides a safe whitening teeth method. They've proven their skills as Brooklyn general dentists when you and your family needed teeth cleaning, fillings, orthodontics, and even dental emergency.
So, when you want to improve the appearance of your smile, listen to your professional dentist. The best results come from the Zoom patented process with a proprietary hydrogen peroxide material and laser whitening in Brooklyn to give you a smile makeover worth the small investment. Now you can finally stop wondering about how to whiten teeth fast. And when it comes to Zoom whitening cost, you'll save a bundle and have the best results, even if the upfront cost may be higher.
Are You Ready to Whiten Teeth Fast with Zoom Care?
If you're wondering "how to get whiter teeth" — and your cosmetic dentist recognizes that you maintain good oral home care habits and routine professional cleanings — you may be a perfect candidate for Zoom teeth whitening. Consider investing in laser teeth whitening, NYC style, if you experience:
Worn-down enamel
Build-up on your teeth from chalky fluoride
Staining from coffee and other food and beverage choices
Yellowing from past cigarette smoking
How Much Does Teeth Whitening Cost?
The Zoom whitening cost is within reach for most people, whereas other cosmetic options for snow teeth whitening may be unattainable. Talk to your dentist about Zoom laser whitening compared to:
Dental insurance typically doesn't cover cosmetic procedures such as Zoom teeth whitening. And while the benefits of your increased self-esteem and even in your earning potential if you're in the entertainment industry, are immeasurable, you still may need assistance with the Zoom whitening cost. Talk to our family dentist about your budget and how best to pay for the smile makeover you deserve.
The Best Teeth Whitening Treatment
Your dentist always places your comfort first and ensures that you fully understand any procedures you're about to undergo. You can expect the laser whitening process to keep up with that same standard of high-quality care. To that end, before beginning the Zoom teeth whitening treatment, you receive complete teeth cleaning to ensure your teeth are as clean as possible and that your gums aren't showing any signs of early gum disease. You can trust us to provide you with safe and effective dental whitening that lasts.
How Long Does It Take to Whiten Teeth?
During that same visit to the local dentistry center in Brooklyn, NY, our dental specialist applies the Zoom teeth whitening gel and zaps them with the laser. This is done in three incremental sessions, 15 minutes apart. The entire laser whitening process takes about an hour. And the effects are long-lasting if you maintain good home care. A kit to touch up your dazzling smile may be sent home with you.
How Painful Is a Teeth Whitening Procedure?
You may feel a minimal amount of tingling during the procedure. Some people report no Zoom whitening pain at all, while others say the Zoom process is uncomfortable. Afterward, your mouth may feel a tad sensitive for the remainder of that day, but it doesn't last.
Your dentist can recommend the best over-the-counter pain medications to get you through the temporary discomfort. Toothpaste for sensitive teeth can also help. Whether or not the process is uncomfortable for you, you soon realize that the cost of teeth whitening, in terms of discomfort, is well worth it when you see the results.
Side Effects and Risks of Zoom Laser Whitening
You won't have any side effects. You will, however, be counseled to avoid substances that could cause your teeth to darken again before the year is out. And if you do eat or drink dark foods, brush and floss soon after to prevent staining. As much as possible, stay away from:
Tobacco products
Red wine
Cola
Coffee
Blueberries
Do you have any questions about the Zoom Whitening (laser teeth whitening) procedure? Would you like more information on the fastest way to whiten teeth or to schedule an appointment with the best dentist in Brooklyn Khabensky DDS of Family Cosmetic & Implants Dentistry? Please contact our dental clinic for a consultation.