You've found a family and cosmetic dentist in Brooklyn who can treat a wide range of dental issues. The board-certified father-and-son dentists at Family Cosmetic & Implants Dentistry make you feel at ease and secure as they treat your oral health and preserve your sparkling smile, whether you need periodontics, orthodontics, or cosmetic work. Here's a family dentist you can trust with both your children's and your own teeth.
General, Family & Cosmetic Procedures
Dr. Alex Khabensky, DDS, and Dr. Igor Khabensky, DDS, are Brooklyn's general dentists who also specialize in cosmetic procedures including:
We can handle any dental procedure you need with expertise and a professional eye for detail. It also implies that your oral health takes precedence. They'll make sure your dental health is excellent before performing any cosmetic procedures, since this is the cornerstone for a beautiful smile.
Treatments For Kids and Teens
Meet Dr. Tracy Kim, a pediatric dentist working side by side with Dr. Igor Khabensky. She trained specifically to provide dental services and treat:
babies
growing children
teens.
Whenever possible, Dr. Tracy Kim employs natural and organic methods. A good pediatric and adolescent dentist is crucial to your child's overall health and growth. Build the relationship early on, and you'll know who to call when your children's teeth begin to erupt or teenage cavities begin to cause discomfort.
Cutting Edge Cosmetic Dental Center in Brooklyn
Our state-of-the-art cosmetic dental center equipped with the newest, most advanced technologies available in the United States including:
latest, top-performance lasers
high-precision microscopes
Well-known in the community implant specialists Alexander and Igor Khabensky DDS use only the best quality medical grade titanium or titanium alloy for dental implants.
We work with a number of quality dental laboratories to provide you with the most accurate and natural-looking solutions. Get the dental implant treatments you need in the safe, reassuring hands of the best-in-class dentist.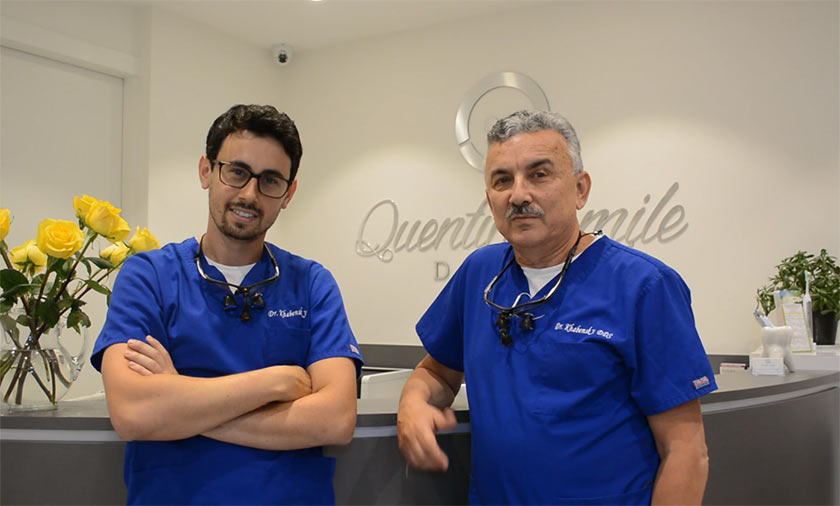 Dr. Alexander Khabensky is known amongst his patients to be gentle, caring, and a true master at his work. He enjoys all aspects of General Dentistry including:
Endodontics
Laser dentistry
Restorative dentistry
Every year Dr. Alexander stays on top of his craft with his continuing education classes. His passion and knowledge for the field have really paved his son, Igor's, own journey into dental field. Read more about family and cosmetic dentist Dr. Alex Khabensky.
Oral and Maxillofacial Surgery
Although most dentists can perform minor oral surgeries, they are not licensed, oral surgeons. For more serious interventions that are beyond the scope of general dental work, they will refer you to a dental specialist who is specifically trained in the field of oral surgery.
An oral and maxillofacial surgeon (OMS) is a dental specialist who received extensive training on performing surgical procedures on the:
When you come to our dental practice, all surgical procedures are performed by our in-house licensed oral surgeon, Dr. Daniel Han. He is a licensed oral and maxillofacial surgeon who completed six additional years of surgical training on top of dental school.
Dr. Han is also trained in administering anesthesia in an office setting and is an expert in performing all types of oral surgery procedures.
The Best Dentist in Brooklyn
Considered the best-rated dentist in Brooklyn — and honored as a top New York dentist, 2017 — Family Cosmetic & Implants Dentistry offers all the common dental procedures in one place, from teeth cleaning to dental surgery.
Dr. Alex Khabensky, Dr. Igor Khabensky, and Dr. Daniel Han are trained and experienced in general, family dentistry, as well as cosmetics.  Simply put, they do it all.
Memberships & Associations
When you come in for an exam or for a cosmetic procedure, relax in the knowledge that your comfort, health, and security become your dentist's top priority. And you're in good hands with dentists with these affiliations:
American Academy of Cosmetic Dentistry
American Dental Association
NYU Graduates
Certified by World Clinical Laser Institute
Named one of 2017 America's Best Dentists
Received Excellence in Customer Satisfaction, 2017
Experience The Most Advanced Dental Lasers
Furthermore, the cosmetic dentist is trained in and has access to cutting-edge laser technology (Biolase WaterLase iPlus), which allows them to perform painless laser procedures such as laser gum surgery. This dentist may also perform more conventional oral surgery, such as a bone graft or gum graft, if necessary.
Only qualified and board-certified cosmetic dentists, such as Alexander or Igor Khabensky DDS, can make an accurate diagnosis and provide appropriate dental care. Please contact our office in Midwood, Brooklyn, NY for more information about the dental services or to schedule a consultation with the best-rated dentists.