Brooklyn Family and Cosmetic Dentist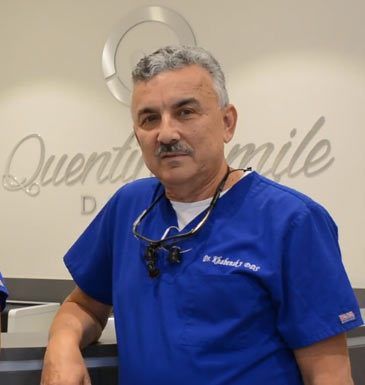 Brooklyn family and cosmetic dentist Dr. Alexander Khabensky's journey first started as a Physician's Assistant when he graduated Kiev Medical University in 1978. He was then drafted in the Soviet Army where he served two years as a PA.
NYU College of Dentistry
Upon completion of his state duties, he returned to Kiev Medical University and studied his first love, dentistry, from 1981 to 1986. Facing tough times and persecution, Dr. Alex, his wife Asya, and son Igor, came to the United States of America in August of 1992 in hopes of pursuing his dreams and a brighter future for his family.
In 1993 he got accepted into the advanced placement program at New York University College of Dentistry. He had to learn a new language and dentistry all over again.
After many sleepless nights, two outside jobs, love and support from Asya, and with lots of dedication, Dr. Alexander Khabensky graduated NYUCD in 1996.
Quentin Smile Dental Services
After a year of working as an associate dentist, Dr. Alex knew he wanted to open something on his own. In 1997 only a year after graduating, Dr. Alex and Asya opened their practice, "Quentin Smile Dental Services" on Quentin Road and E16th St (Family Cosmetic & Implants Dentistry of Brooklyn).
Comprehensive Dental Care in Brooklyn
They have since become a staple in the community for the past 20+ years. Dr. Khabensky has seen his pediatric patients grow up and bring their own kids into the practice. He's also seen families move hundreds of miles away to Connecticut, New Jersey, Massachusetts, or Albany and still make the trip to see him for their dental needs.
Trust and Recognition
He's gained the trust of his patients for his excellent skills, positive demeanor, and fantastic bedside manner. Dr. Alexander Khabensky is known amongst his patients to be gentle, caring, and a true master at his work. He enjoys all aspects of General Dentistry including endodontics, laser dentistry, cosmetic dentistry and restorative dentistry.
Every year Dr. Alexander stays on top of his craft with his continuing education classes. His passion and knowledge for the field have really paved his son, Igor's, own journey into dentistry. Igor Khabensky DDS a top rated Brooklyn dentist is now a partner at Family Cosmetic & Implants Dentistry of Brooklyn.
Outside of creating smiles, cementing crowns and bridges, and restoring dental implants in Brooklyn clinic, Dr. Alexander Khabensky is an avid outdoorsman. He enjoys fresh water fishing along the Delaware river, road trips to Pennsylvania, and long walks with his companion, Dasha, a miniature schnauzer.
Do you have any questions for the Family Cosmetic & Implants Dentist Dr. Alexander Khabensky? Would you like to schedule an appointment with the best dentist in Brooklyn? Please contact our dental clinic in Brooklyn for a free consultation.