The teeth cleaning cost for you and your family is always going to be way less than the costs of the more invasive dental treatments you may need if you don't invest in regular deep teeth cleaning procedures. And you don't have to ask yourself does teeth cleaning hurt when you visit the deep cleaning dentist in Brooklyn, who takes care of all your concerns and your comfort. Come to our Brooklyn dental clinic to receive the most thorough dental deep cleaning. Meet our family, cosmetic dentists in Brooklyn Alex and Igor Khabensky DDS to get the fastest & painless deep cleaning treatments.
Deep Teeth Cleaning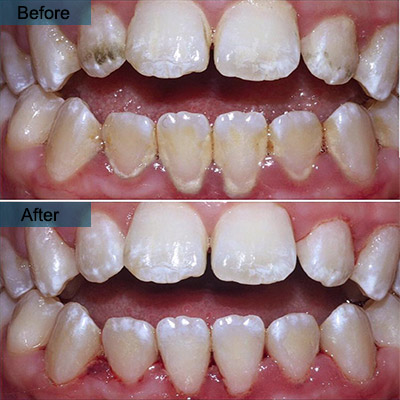 Sometimes, just the thought of a deep teeth cleaning may put you off of the procedure. But this simple and painless oral treatment shouldn't make you apprehensive as it's an integral part of keeping your teeth and mouth healthy and clean. In the hands of the best teeth cleaning dentist in Brooklyn, your comfort always comes first, so you have less to worry about and more reasons to keep those regular cleaning appointments.
Though cleaning your teeth by brushing them properly and consistently one to three times a day helps keep your mouth healthy, a proper teeth cleaning performed by a cosmetic dental clinic in Brooklyn ensures you have no other problems. And the exam that accompanies the cleaning helps prevent future problems from occurring.
The main focus of a deep teeth cleaning is to remove the plaque and tartar buildup that develops in your mouth that a normal toothbrush can't remove. The teeth cleaning cost more than pays for itself when you can avoid periodontal disease that occurs normally over time to everyone.
The Procedure for Teeth Cleaning
You may ask, does teeth cleaning hurt? And the correct response is: no — especially when performed by an experienced dental team. If you need it, a light anesthetic or mouth numbing medication may be used to make sure you're comfortable. Your dental hygienist at Quentin Smile Dental Practice cleans your teeth, removing plaque and tartar with the aid of a small mirror and a scraping device.
Once the plaque and tartar are removed, the hygienist uses a high-powered electric toothbrush, accompanied by gritty toothpaste, to provide a thorough cleansing. The process that takes anywhere from 10 to 30 minutes. A deep teeth cleaning takes longer and usually is performed by your Brooklyn general dentist.
Typical Teeth Cleaning Cost
If you have dental insurance, it typically covers the recommended bi-annual teeth cleaning cost. Actual teeth cleaning cost averages less than $200, but the cost varies, depending on how much deep teeth cleaning you need and how often you visit your dentist in Brooklyn.
Though teeth cleaning cost may seem expensive, the benefits of having a deep teeth cleaning far outweigh the price of not having it done. Taking the proper measures to care for your teeth, mouth and gums reduces the risk for a wide range of health issues, including:
Heart disease
Diabetes
Lung infections
Kidney problems
Infertility
Preterm birth
Cancer
Additionally, you'll save an enormous amount of time and money. You won't ever have to ask: does teeth cleaning hurt, when you continue with a regular cleaning routine. And if you worry does teeth cleaning hurt, you really must think about the discomfort of more invasive treatments. Consider the savings and potential pain, as weighed against your teeth cleaning cost, if you were to need:
After the Deep Cleaning Treatment
The many benefits of bi-annual teeth cleaning far outweigh any teeth cleaning cost. And the regular checkups that you undergo during the visit keep you mindful of how important your regular dental health habits are to your overall health. Your Brooklyn family dentist supplies you and your family with all the information you need to practice exceptional homecare. Other benefits to continuing a healthy routine and regular professional teeth cleaning include:
Fresh and clean breath. By brushing twice a day and flossing at least once a day, your breath stays fresh.
Gum disease prevention. Learning how to properly brush your teeth — including a healthy scrub on your gums — can ultimately prevent periodontal disease from occurring.
Remove stains and whiten. Depending on the kinds of toothpaste and products you invest in, stain removal and whitening are two byproducts of teeth brushing. Drinking dark-colored beverages like coffee and syrupy cola drinks can stain your teeth, so by consistently brushing them, you reduce the likelihood of stains and improve your winning smile.
Time savings. You spend less time at the dentist's office and more time with your family, enjoying life pain-free when you invest in the little time it takes for regular teeth cleaning.
Build important dental relationships. Your dental team gets to know you and your family, your medical and dental history and your oral goals when you visit twice a year. If and when you do need other general or cosmetic dental services, you'll already know the dentist to call!
Do you have any questions about the Teeth Cleaning (painless dental deep cleaning) procedure in Brooklyn? For more information or to schedule an appointment with the best rated deep teeth cleaning dentist Khabensky DDS of Family Cosmetic & Implants Dentistry of Brooklyn? Please contact our dental clinic for consultation with the dentists Alex and Igor Khabensky DDS.