Root canal therapy, also known as endodontic therapy, is one of the most popular means of saving your natural teeth when they become infected. Root canal retreatment may be needed after many years, but overall the root canal cost is worth the investment. Root canal pain is minimal, compared to the pain of not having the procedure. Your Dr. Igor Khabensky, DDS, provides you with all the information you need about everything from root canal costs to root canal recovery and pain after a root canal.
What is a Root Canal?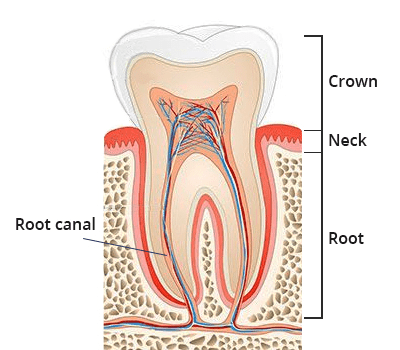 You may need root canal treatment if a nerve in one of your teeth becomes infected. A tooth extraction will be needed if you leave your root canal untreated. A dental bridge or a dental implant will be needed to replace the missing tooth.
The best dentist Khabensky, DDS, works to keep your root canal cost as low as possible while reducing any root canal pain you may feel.
Basically, this therapy involves removing the nerves and pulp from inside a diseased tooth so the infection doesn't spread throughout your body. At the same time, your family dentists Alex and Igor Khabensky, DDS of dentistry center in Brooklyn, can eliminate root canal pain. The chamber in your tooth that holds the nerves and blood supply is called the root canal. You don't need the nerve to maintain a healthy tooth; the nerve is there to warn you of problems like infection.
Root Canal Pain Causes and Symptoms
A tooth infection leads to throbbing pain. The root canal pain also may be associated with:
Inflammation in your head, neck, or face
Loss of bone around the tooth's root
Problems with proper drainage that allows the infection to run into your gums or on your skin
Root canal retreatment may be needed for several different reasons, such as:
Root Canal Retreatment and Treatment Process
If caught early enough, infections almost always respond successfully to endodontic treatment. Your general dentist follows a similar procedure for root canal therapy and root canal retreatment:
X-rays allow your dentist to determine the extent of tooth damage caused by the infection and see how much of the surrounding tissue and bone are affected.
Local anesthesia eliminates root canal pain and helps speed up your root canal recovery.
Your dentist places a rubber sheet around the tooth to keep it dry and saliva-free.
Next, your family dentist drills a hole into the tooth that's deep enough to reach the chamber holding the pulp.
He removes the infected bacteria, nerve tissue, pulp, and any other debris that got down into the tooth root. The entire cavity is scraped clean before it's filled and sealed.
A sealant and disinfectant are inserted in the hole to protect it from getting more debris inside it and to save the bone from further damage.
You may need to have an antibiotic inserted if the infection is bad enough. You may have to return for a second visit to have the tooth sealed if it needs time to heal first.
Once the root is sealed, the hole that is made to reach the pulp is filled in.
To protect the natural tooth from breaking after it's undergone the trauma of the endodontic therapy process, your dentist usually recommends placing a crown over the remaining tooth.
Pain after root canal treatment usually is managed with over-the-counter pain relievers; ask your dentist for suggestions. After spending an hour or more in the chair with your mouth open, you likely will feel some discomfort. You may feel some sensitivity for about 24 hours. Any severe pain after a root canal should be reported immediately to your dentist.
How Much Does a Root Canal Cost?
When you inquire about how much a root canal costs, the answer depends on how extensive the decay is, how much it has spread and what kind of crown you choose. Retreatment may create an additional root canal cost.
However, when you save your natural tooth, the final root canal cost is difficult to measure. And with a 95 percent success rate, root canal recovery and the associated benefits are worth the investment.
Root Canal Recovery Basics
After the initial root canal pain subsides, you can return to your normal oral health home care. There is a minor risk of problems that may need root canal retreatment. Possible reasons for the infection to return include:
More than one root canal therapy procedure was done, and not all of the infection was cleared.
There was a crack in the tooth that went undetected
The root sealant breaks down, usually after many years
Do you have any questions about the root canal procedure in Brooklyn? For more information or to schedule an appointment with the best dentist, Khabensky DDS of Family Cosmetic & Implants Dentistry, please contact our dental clinic.