When you have a cracked tooth, the broken tooth pain can keep you up all night; that is until you have your broken tooth repaired. Our family dentist Dr. Alex Khabensky, DDS provides emergency cracked tooth repair to alleviate cracked tooth pain. Come to our Brooklyn's local dental practice to receive the most efficient, functional, and highly esthetic results. Meet our family, cosmetic dentists to get the most efficient & painless dental treatment options.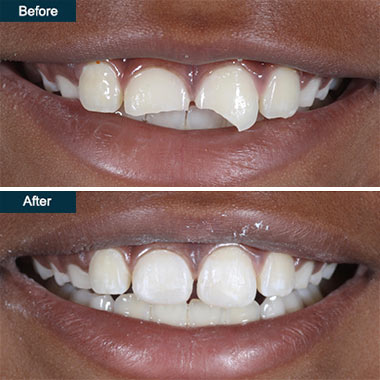 Broken tooth pain can be excruciating because it very often exposes sensitive nerves. Broken or cracked tooth pain can make it difficult, sometimes impossible to eat or even function normally. Fortunately, your Brooklyn family dentist is prepared to handle dental emergencies like a cracked tooth.
Whether you need broken tooth repair immediately because of the discomfort or even if you don't have any cracked tooth pain, you should seek treatment as soon as possible to prevent any further consequences. You may need treatment for an underlying reason that caused your tooth to crack. If you were in an accident and are experiencing jaw pain, for example, you may also have a concussion or broken jaw.
Don't Postpone Broken Tooth Repair
The enamel that protects your teeth is formed out of hard, mineralized tissue. It can withstand a lot of pressure, but it does have limits. Broken tooth pain can be caused by a number of things, such as:
Falls
Blows to your face
Biting down on a hard substance like candy, bones or ice
If you can, save the piece of your tooth that's broken off and seal it in a container that's been thoroughly cleaned and filled with saline or milk. Bring the container with you to your Brooklyn dentist. This becomes pivotal in situations when you or your child break a front tooth! Do not throw the broken piece away as it can be re-bonded very successfully in most cases. You may also:
Relieve the pain with over-the-counter medicine until you reach your dentist's office
Apply pressure to the outside of your mouth in intervals of about 10 minutes if bleeding persists
Use salt water to rinse out your mouth; it sterilizes the area
Place a chewed piece of sugarless gum over the exposed nerve and jagged edge
Reduce swelling with a cold pack held to your jaw
Only take fluids or soft foods until you've undergone broken tooth repair
Cracked Tooth Repair Considerations
Your top rated cosmetic dentist in Brooklyn gives you a thorough exam to determine whether or not you have any other issues in your mouth, such as gum disease or broken bones. The size of the break influences the recommended broken tooth repair technique. Treatment options include:
More Cracked Tooth Pain
Insurance often covers many of the emergency treatments you may need for cracked tooth repair. At the same time, left untreated, broken tooth pain usually worsens until it becomes unbearable. If your tooth eventually goes numb, you could suffer even worse consequences.
Infection can seep from your tooth through your entire body and even create a life-threating situation. Choose instead to trust your broken tooth repair to your family dentist who takes care of your health, your comfort and your appearance. Do not hesitate to address cracked tooth pain.
Do you have any questions about the broken, cracked tooth repair procedure in Brooklyn? For more information or to schedule an appointment with the top rated cosmetic dentist Khabensky DDS of Family Cosmetic & Implants Dentistry of Brooklyn? Please contact our dental clinic for consultation with the dentists Alex and Igor Khabensky DDS.