Affordable dentures from the best dentist dentures in Brooklyn help you look and feel your best. Whether you need partial dentures, denture repair, a full set of dentures with denture implants, or just the most natural-looking dental dentures, you're in good hands at Family Cosmetic & Implants Dentistry of Brooklyn.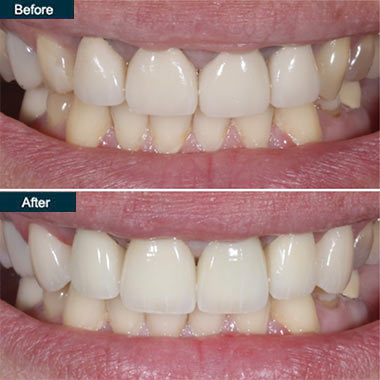 It's natural to want to look your best, and when you have one or more missing teeth, your Brooklyn cosmetic dentist may recommend dental dentures. Dentures are removable dental appliances that can replace the teeth you've lost, giving you back a natural-looking smile and restoring your ability to chew and speak without difficulty.
When you visit the best dentist in Brooklyn, you'll receive a number of recommendations based on the very best solutions for your dental needs. And there are several good reasons to get dentures if you have missing teeth, such as:
It's easier to eat and speak when you don't have to contend with missing teeth.
They fill out your smile, particularly if you've lost all your teeth.
They can be made to closely resemble your natural teeth in shape and color.
Affordable dentures provide options when you can't afford implants.
If you have to decide between dentures vs. implants, you'll get viable options — as well as the pros and cons of each — at your Brooklyn family dentist.
What to Expect When Considering Dental Dentures
When you're thinking about getting dentures, your Brooklyn dentist first examines your mouth to determine how many teeth are missing. You may have remaining teeth that need to be extracted because of tooth decay or gum disease. If you have teeth pulled, your gums need to heal before your dentures can be created. Healing may take up to 12 weeks, but you need to be completed healed so that your tissue isn't still changing shape.
Once you decide to move ahead to get dental dentures, you still have some decisions to make. There are three main types of affordable dentures. You and your dentist in Brooklyn choose from among:
Full dentures
Partial dentures
Temporary dentures
How Dentures Are Made
After you and your Brooklyn cosmetic dentist decide to proceed with dentures, a series of molds are made of the tissue that will support the denture appliance. This is usually done using wax, so it doesn't cause any discomfort.
Dentures are custom-made in a dental lab, usually of acrylic resin. The false teeth are made of plastic or porcelain. You need to visit the dentist several times as the dentures are being created to be sure they fit properly and look good.
Temporary dentures, also called immediate dentures, allow you to have a natural look while you wait for your permanent dentures to be created. They fit whether you've lost all your teeth or just one or two teeth. Temporary dentures are usually made of acrylic. They're meant to be a short-term solution designed to last two to three months. The fit isn't exact and frequent adjustments may be necessary.
Partial Dentures Cover the Gaps
If not all your teeth are missing, partial dentures can fill in the gaps. These are removable dentures that replace your missing teeth and can help you speak and eat properly and without issues. They may suffice as affordable dentures for a period of time.
The replacement teeth on a partial denture are usually attached to a gum-colored plastic base which may be connected by metal framework. You may need crowns on your natural teeth to improve fit. A partial denture is an affordable alternative to a bridge too.
Complete Dentures for All New Teeth
Complete dentures replace all your teeth. They're created just for you. Removable dentures are held in place by dental adhesive, suction or both. You have to remove them from your mouth twice a day for cleaning. They are the most affordable dentures.
Denture implants are more expensive, but most people believe they're worth the investment. Fixed dentures are held in place by four or six denture implants — tiny screws placed in your jawbone. Denture implants are usually more comfortable than removable dentures. Denture implants:
Feel like natural teeth
Fit comfortably
Offer a long-term solution.
What to Expect from Your Dentures
When you first get dentures, you may have some minor mouth irritation, which improves as you get used to them. If a sore spot develops, your Brooklyn dentist can make adjustments to relieve the discomfort.
At times, denture repair may be needed. The side of your dentures that touches the soft tissues in your mouth may need to be re-aligned to make it fit more securely. If your dentures fit poorly, they may need to be replaced. You may need some form of denture repair or adjustment every few years.
With the right set of dentures and the care of a skilled Brooklyn general dentist, your dentures look natural and function a lot like your natural teeth. If you're looking for the best dentist in Brooklyn, call today and learn about your options for dental dentures.
Do you have any questions about the affordable dentures (full, partial dentures, denture implants repair) procedure in Brooklyn? For more information or to schedule an appointment with the Brooklyn cosmetic dentist Khabensky DDS of Family Cosmetic & Implants Dentistry of Brooklyn? Please contact our dental clinic for consultation with the dentists Alex and Igor Khabensky DDS.