About Daniel Han DDS, MD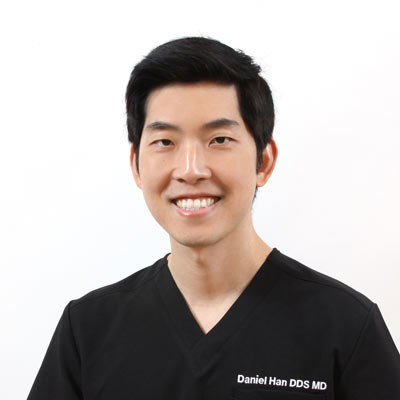 Dr. Daniel Han was born in Philadelphia and grew up moving between multiple countries. He pursued his bachelor's degree at the University of Washington. Following graduation, he attended the University of California San Francisco where he received his Doctor of Dental Surgery (DDS) degree.
After receiving his doctorate degree, he relocated to New York City where he completed his oral and maxillofacial surgery residency at Mount Sinai Hospital/Jacobi Medical Center, an academic affiliate of Albert Einstein College of Medicine. During his residency training, Dr. Han received his Doctor of Medicine degree (MD) from the Albert Einstein College of Medicine and completed a general surgery Internship at the Mount Sinai Beth Israel Hospital.
He then served as the senior and chief resident of oral and maxillofacial surgery at Mount Sinai Hospital and Jacobi Medical Center. His training provided him with extensive experience in all scopes of oral and maxillofacial surgery, including bone grafting, implant surgery, reconstruction of the jaws, dentoalveolar surgery, and anesthesia.
Oral Surgeon Dr. Daniel Han is certified in Advanced trauma life support (ATLS), Advanced Cardiac Life Support (ACLS), Pediatric Advanced Life Support (PALS) as well as Basic Life Support (BLS). Professionally, he is a member of the American Board of Oral Maxillofacial Surgery, American Dental Association and the American Association of Oral and Maxillofacial Surgeons.
In his off time, Dr. Han enjoys spending time with his wife exploring the New York City and is an avid hiker and snowboarder.