About Daniel Han DDS, MD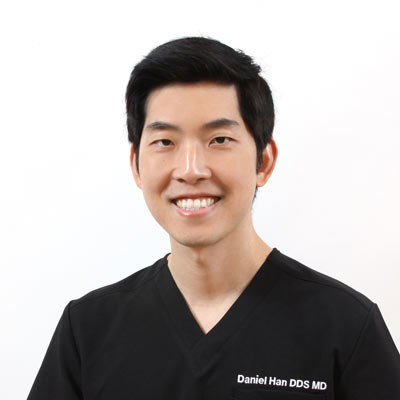 Dr. Daniel Han is a top-rated specialist in the field of oral and maxillofacial surgeries. He has enormous experience in performing this type of surgery and has the best customer feedback. He will not let the patient leave the office dissatisfied.
Dr. Daniel Han pursued his bachelor's degree at the University of Washington. Following graduation, he attended the University of California San Francisco where he received his Doctor of Dental Surgery (DDS) degree.
The specialty of oral and maxillofacial surgery was distinguished by the ability to provide people with safe and effective outpatient anesthesia. Dr.Han is a top-rated specialist in the field of anesthesia administration.
What is an Oral & Maxillofacial Surgeon?
There are different types of dental specialist but maxillofacial and oral surgeons are considered unique among others. This is explained by the fact that that they trained with the use of emergency medicine techniques, general surgery, and anesthesiology.
Oral surgeons have expertise in treating issues that are related to the soft and hard tissues of the face, jaws, and mouth. Sometimes they work in hospitals but the vast majority of their practices take place in comfortable office settings. Oral and maxillofacial specialists do not need to perform every type of oral surgery. There are a lot of dentists who are able to perform common procedures such as simple extractions. Although when a need for more complex procedures arises, these specialists might be in a high need.
Dr. Han Oral Surgery Experience
After receiving his doctorate degree, he relocated to New York City where he completed his oral and maxillofacial surgery residency at Mount Sinai Hospital/Jacobi Medical Center, an academic affiliate of Albert Einstein College of Medicine. During his residency training, Dr. Han received his Doctor of Medicine degree (MD) from the Albert Einstein College of Medicine and completed a general surgery Internship at the Mount Sinai Beth Israel Hospital.
He then served as the senior and chief resident of oral and maxillofacial surgery at Mount Sinai Hospital and Jacobi Medical Center. His training provided him with extensive experience in all scopes of oral and maxillofacial surgery, including bone grafting, implant surgery, reconstruction of the jaws, dentoalveolar surgery, and anesthesia.
Best Brooklyn Board Certified Oral Surgeon
Oral Surgeon Dr. Daniel Han is certified in Advanced trauma life support (ATLS), Advanced Cardiac Life Support (ACLS), Pediatric Advanced Life Support (PALS) as well as Basic Life Support (BLS). Professionally, he is a member of the American Board of Oral Maxillofacial Surgery, American Dental Association and the American Association of Oral and Maxillofacial Surgeons.
What are the Procedures Performed by Oral Surgeon?
In order to get a better understanding of the type of procedures performed by the best Brooklyn oral surgeon, please the list below:
Wisdom teeth removal
Impacted teeth removal
Dental implants
Facial injury repair
Cleft lip and cleft palate repair
If you have any questions about the aforementioned you can schedule an appointment with the best Brooklyn oral surgeon – Dr. Daniel Han. This can be done by contacting our clinic in Brooklyn. More information about our services can be found by having a consultation with our top-rated dentist. An appointment can be scheduled online or by calling 1718-339-8852.