Mini dental implants may be just the solution you've been seeking to replace missing teeth or to finally get a winning smile makeover. Your cosmetic dentist Dr. Igor Khabensky can provide you with mini implant dentures in a single visit. They're perfect if your jaw and bone have been drastically reduced due to aging and missing teeth. The best news is that mini dental implants may save you money. We use only the best quality medical-grade titanium or titanium alloy for dental implants. Visit our Brooklyn local dental center to receive the most efficient, functional, and highly esthetic results. Meet our family, cosmetic dentists in Brooklyn Alex and Igor Khabensky DDS to get the fastest & painless dental treatments in the safe, reassuring hands of the best-rated implant dentists in Brooklyn.
WE NO LONGER OFFER MINI DENTAL IMPLANTS
If you're looking to replace lost teeth but aren't interested in conventional restorations, mini implants may be the answer to tooth loss you've been looking for. Dental implant technology is far superior to traditional dentures for people missing multiple teeth. Implant dentures aren't going to slip or shift like traditional dentures. And your Brooklyn cosmetic dentist is fully trained and experienced in the latest implant technology.
But even regular dental implants aren't right for everybody. Maybe you don't have the time to commit to the invasive surgery involved with regular implants. Or maybe you don't have enough bone mass to hold regular implants in place without also undergoing a bone graft. Mini implants are similar in structure to regular implants but are slightly smaller. But don't be fooled by their size — the results achieved with this type of implant are huge.
Little Dental Implants, Big Difference
While any form of tooth replacement is preferable to miss teeth, most dental prosthetics can't function or perform like your natural teeth. Dental implants, however, work and look just like your own natural teeth. Mini implants essentially function in the same way as regular implants. They are capable of holding your dentures and overdentures securely in place.
Using implants to anchor dentures has become increasingly popular. Mini implant dentures are proving to be an effective alternative to traditional implants. The size differences are huge:
Mini implants range in size from 1.8 mm to 3.0 mm.
Regular implants typically measure 3.75 mm.
If those numbers don't mean much to you, consider that mini dental implants can be placed and completed in a single, non-invasive treatment. The best dentist Dr.Igor Khabensky has years of experience working with this innovative and non-invasive technology.
The biggest difference between the two types of implants is that the mini versions are designed to eliminate the need for bone grafting. This makes them the ideal treatment for tooth loss if you've already experienced significant bone loss in your jaw and gum line. And their size puts an end to the extended, multi-step recovery associated with traditional dental implants.
Just the Facts: Mini dental implants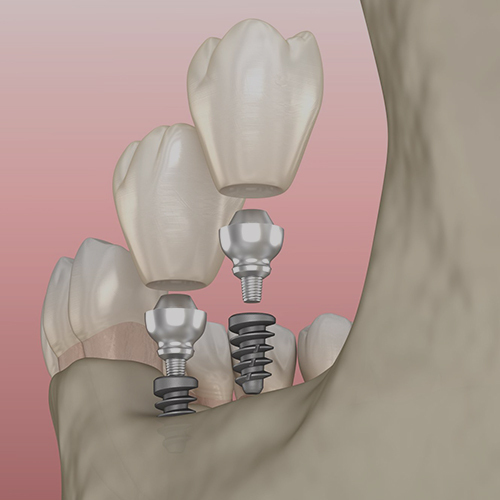 Mini dental implants consist of tiny screws anchored directly into your jaw, These screws act in place of the roots of your tooth. The top of the device looks like a ball. It fits firmly with your mini implant dentures or bridge. This keeps your new teeth level and strong.
Four of the smaller implants are used to fit your dentures into position. All four of these screws are placed at the same time. And mini implant dentures actually cost a lot less than regular implants. They are most commonly used on your lower jaw but can be placed anywhere in your mouth. Advantages of mini implant dentures include:
High success rates
Less discomfort
Firm fit for your dentures
No cutting or stitching is required
Faster treatment time
Permanent results
More cost-effective
How Magic Happens in a Day
The entire procedure takes about an hour from start to finish. Once you've been evaluated by your Brooklyn cosmetic dentist, the best placement for your mini dental implants is determined. You're given a mild anesthetic and a small hole is drilled for each implant. The screws are then placed, tightened, and secured to ensure the best and most secure fit possible. Your denture is then measured and marked so that it can be sent to a dental lab and modified to accommodate your new implants.
Once the modifications to your denture are complete, it can be successfully snapped to your implants with small rubber O-rings that snap in and out of position. The comfort of having your dentures tightly fit and firmly in place can last a lifetime.
A Little Bit of Care
One of the amazing advantages of this type of procedure is that your mini implant dentures require the same kind of care that you would use on natural teeth. Just simply brush and floss daily. And although you won't feel any real pain or discomfort following your procedure, extra soft bristles are recommended for brushing while your gums are still sensitive.
Following your procedure, you're even able to eat. But staying away from especially hard or acidic foods is recommended for a short time. You have the freedom to take your dentures out whenever you wish. And the end result is a beautiful smile that you can take pride in sharing. It's time that you found a family dentist in Brooklyn that can restore your confidence in a single sitting.
Do you have any questions about the Mini Dental Implants in Brooklyn? For more information or to schedule an appointment with the best-rated Brooklyn implant dentist Khabensky DDS of Family Cosmetic & Implants Dentistry of Brooklyn? Please contact our dental clinic for consultation with the implant dentists Alex and Igor Khabensky DDS.