Peri-implantitis is a dental implant infection that can happen when you receive a dental implant. Your family dental specialist makes sure that you have the highest success, however, by taking every precaution to prevent infections and other dental implant complications. At our Cosmetic & Implants Dentistry of Brooklyn we use only the best quality medical grade titanium or titanium alloy for dental implants.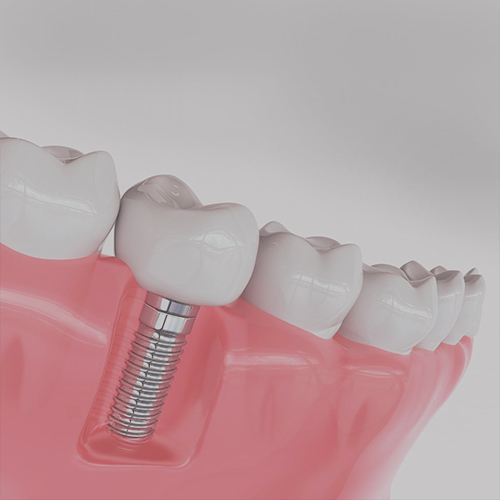 Dental implants are becoming more and more prevalent as a safe and effective means of replacing missing teeth. There are many benefits from dental implants, and the success rate consistently remains above 95 percent. But like any dental implant procedure, especially those involving dental surgery, complications can occasionally occur.
In implant surgery, your implant dentist drills a small hole into your jawbone to place a titanium anchor. If you have a bleeding disorder, an active infection, allergies or existing medical conditions — or if you take certain medications, you need to take extra precautions or avoid the procedure altogether. Honest communication with your top-rated dentist Dr. Khabensky places you in a position for the best possible outcome.
Potential Dental Implant Complications
After a dental implant is placed, the bone grows around the anchor, providing a strong, tight bond. This process, called osseointegration, takes anywhere from four to six months to fully form. Other than the slim chance of possible fracture of the dental implant due to faulty mechanisms, improper positioning of the implant itself or overloading the implant at the time of surgery, most dental implant complications occur from an issue around the osseointegration process, such as:
Insufficient or lack of bone volume. This condition can lead to complications like a bone fracture because the bones in your face are hollow. Also, if there isn't enough bone depth or density, the implant can penetrate your sinuses. You'd feel sinus pressure and a stuffy nose, which can lead to serious sinus infections. If you don't have sufficient bone volume, your Brooklyn family dentist can perform a sinus lift. If you experience a sinus perforation, treatment consists of an easy patch with resorbable collagen. A second attempt at implantation after a sinus lift usually solves the problem.
Medications such as Fosamax, Actonel and Boniva are in the biphosphate family used to treat osteoporosis. These medications affect the body's ability to remodel the bone around your implant. Chances of these medications affecting the process depend partly on the length of time you've been on the medication regimen.
Damage to surrounding tissue, including neighboring teeth roots, nerve damage, or gum and cheek concerns. Implants placed too close to the nerve cause pain, numbness and tingling in your gums or face near the implant. Damage can be temporary or permanent.
Any blunt force trauma to the face or jaw that could result in poor healing or osseointegration occasionally occurs. You need to treat these injuries promptly and properly.
Inflammation around the implant due to a dental implant infection. The infection keeps the bone from forming a tight bond.
Peri-implantitis or a dental implant infection leads to poor bone formation or the need to remove the implant to clear the infection. Causes for infection include a pre-existing infection, bacteria present at the time of surgery or poor dental hygiene. Infection and inflammation may cause a loss of supporting bone. Certain individuals are more susceptible to peri-implantitis.
Dental Implant Infection Susceptibility
Your Brooklyn cosmetic dentist is well-versed in the implantation process and knows how to avoid most issues. Most dental implant complications arise from:
Bad planning by an inexperienced dentist
An incomplete assessment of your medical and dental history
An inferior condition of your jawbone
Previous conditions can affect your chances of developing peri-implantitis. Communicating these conditions and understanding their effect on your dental health helps you and your Brooklyn cosmetic dentist make the best choices for your dental care. Talk to your dentist about conditions that might affect implants, such as:
Cigarette smoking. Smoking causes constriction of your blood vessels, reducing their healing properties and making it harder for any site of injury or trauma to absorb the necessary nutrients needed for recovery.
Diabetics. All diabetics are more prone to infection due to the compromise the disease places on blood vessels and other tissues in the body.
Poor immune systems. Those with compromised immune systems often struggle with recovery after procedures.
Thin gums. This condition can allow the exposure of your bone, leading to decay or infection.
Poor dental hygiene. Improper home care of your teeth and gums makes any healing process more difficult to achieve.
Symptoms and Treatment of Dental Implant Complications
Proper pre-assessment — along with your honest and clear communication with your Brooklyn general dentist — helps increase your odds of having a successful implantation. Indicators of possible dental implant infection include:
Abnormal bleeding at the gum line
Gums that are very red, purple or blue
Evidence of pus coming from around the implant site
Pain, fever or swelling
Report any pain, swelling or fever immediately to your dentist. Treatment options include antibiotics to clear the infection, although surgery and bone grafting may be needed to clear damaged bone and rebuild the tissue for future implantation attempts. It's usually necessary to remove the implant during the healing process. You can get it re-implanted when you've healed.
Do you have any questions about Dental Implant Problems? Would you like to schedule an appointment with the best Brooklyn family dentist Khabensky DDS of Cosmetic Dentistry of Brooklyn? Please contact our dental clinic for consultation with the implant dentists Alex and Igor Khabensky DDS.