Many people have dental implants to replace missing teeth, often on the recommendation of their dentists who want them to receive the very best dental care. However, for others, the mere thought of having oral surgery can seem a little daunting. It may even deter some people from having this excellent treatment.
If you would like dental implants but are feeling a bit apprehensive about the thought of implant surgery, this article is for you! Many people are pleasantly surprised at how easy it is to receive dental implants.
The truth is that most patients will feel no pain during the actual surgery and will experience minimal discomfort afterward.
Dental Implant Integration
Dental implants are unique in that they artificially replace an entire tooth and that includes the tooth root.
An implant consists of a post that is inserted into the jawbone, and because of the way it is designed, it quickly integrates with the bone around it.
Over three months or so, the implant post becomes firmly fused into the bone and can easily support a natural-looking dental crown.
When several teeth are missing, it's possible to replace them using multiple dental implants. You can even restore an entire arch of upper or lower teeth, or both using an implant-supported bridge, or even a denture that will clip onto the implants.
It's the fact that a dental implant consists of a post or screw that gives some people pause for thought, as not surprisingly, it sounds quite a painful procedure to have it inserted into the jawbone. The reality is very different.
Before You Have Your Dental Implant Surgery
Before you even have your date for surgery, your dental implant dentist performs a detailed examination of your jaws and any remaining teeth, and take various diagnostic tests, including:
dental x-rays
cone-beam CT scan
Having a CT scan is particularly critical because it allows your dentist to preplan the surgery and to create a precision-made surgical guide or stent.
During the planning stage, your dentist decides exactly where to place each dental implant, and because the CT scan provides 3-D images, they can assess precisely how the implants will look once fully restored.
They can check every single detail, including your bite, to make sure your teeth look and feel as normal as possible and have excellent functionality.
Once surgery planning is completed, the plan is transferred to the surgical guide, so nothing is left to chance.
Dental Anxiety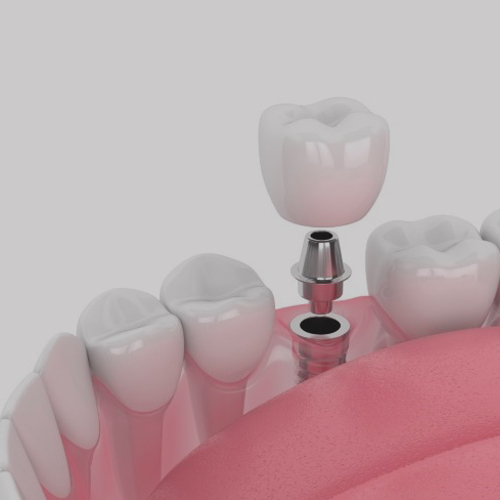 If you have deep-seated fears or dental anxieties, now's the time to talk to your dentist about your concerns. While it is perfectly possible to place dental implants using a local anesthetic, many people will opt for dental sedation.
Your dentist can almost certainly provide you with oral sedatives that are taken before surgery, or you may wish to have intravenous sedation that is administered through a vein during your treatment.
With intravenous sedation, you will feel deeply relaxed so you may even fall asleep! Afterward, it's most unlikely that you will remember very much about your treatment and you certainly won't have felt a thing.
What Happens During Surgery?
During surgery, one of the most important things that happen is the preparation of the implant site.
To do this, your dentist will need to make a small hole in the jawbone. Often, they will create a flap in the gum tissue to access the bone, but sometimes dental implants are placed directly through the gum tissue with no need for incisions.
It all depends on the type of dental implant system used by your dentist. If your dentist is using a surgical guide, it is placed in the mouth, and the implant sites are prepared through the surgical guide. This makes sure that each dental implant is situated in exactly the right place, ensuring the implant hole is precisely made.
Once the implant site is ready, the dental implant is placed into the jawbone. If a flap was made in your gum tissue, this is stitched shut, and the healing process can begin. Usually, the stitches used during surgery are self-absorbing and will not need to be removed.
What to Expect After Implant Surgery?
Because the surgery is so small, any discomfort is limited and especially if your dentist didn't even need to cut into your gum tissue to create a flap.
During this initial healing period, in case of any discomfort, you will probably need to use:
over-the-counter anti-inflammatory medication
antibiotics to aid healing
an antibacterial mouth rinse containing chlorhexidine
Your dental implant dentist can provide you with lots of other information that will be tailored to meet your needs. For example, they can give you lots of information about which foods are best to eat while your gum and jawbone heal.
As the implant post begins to integrate with the jawbone, it's important it isn't disturbed.
Traditionally, dental implants are left in place for three months or more before an implant tooth is fitted onto them. However, nowadays, a technique called immediate loading is becoming more common, but it could be that your dental implant dentist doesn't recommend this. It is only suitable in specific situations.
Temporary Crown
Sometimes an implant dentist will immediately load a front tooth with a temporary crown, and this is purely for cosmetic purposes. It's important not to bite down on the crown, and it will most likely be shorter than average to prevent you from using it properly.
The temporary crown remains in place until healing is completed and a permanent crown is fitted, and which will be the proper length!
If you require a full arch of teeth, it's frequently possible to fit a temporary prosthesis soon after surgery. This can be made before your dental implants are inserted and are secured onto the implants just a short while later.
Because a full arch of teeth requires multiple dental implants, the temporary prosthesis works by locking these implants together, preventing any unwanted movement.
While you wear it, you will most likely need to follow a softer diet because the implants still need time to heal. Afterward, the temporary prosthesis is replaced with a permanent prosthesis.