Dental implants have been around for decades and have changed many people's lives for the better, and especially those people who previously wore full dentures. There are several important qualities that are unique to dental implants because they are the only means of replacing teeth while protecting your jawbone and which won't compromise the health of any remaining natural teeth.
Gold Standard for Tooth Loss
Potentially, when properly cared for, there's the possibility dental implants can last a lifetime, so it's little wonder they are regarded as being the gold standard for tooth loss. Nowadays implants are many dentists' first choice of treatment for patients facing tooth loss or who have already lost teeth.
With the proper care and design, dental implant teeth look and feel very natural, and should function exactly like real teeth.
If you are amongst the many millions of people who have lost teeth and are currently considering your options for replacing them, then dental implants are most likely on your radar. One of the first choices you need to make about this treatment is who to see for your dental care.
These days an increasing number of general dentists will offer dental implants. They may carry out the implant surgery in their dental office, or they might choose to refer patients to dental implant specialists like periodontists or prosthodontists.
Ideally, it's far more comfortable and convenient to choose a dentist that can carry out the entire process from start to finish, including the implant surgery and making and fitting the final prosthesis. 
However, those general dentists that do carry out the work themselves may have only received limited training. It's possible to begin placing dental implants after only completing a relatively short course, and some of these dentists might place just a few dental implants each year.
Dental Implants Equipment
Additionally, not every dental office is equipped with the technology required to plan and place modern dental implants. These factors can all make a difference in the outcome and success of your treatment. Outlined below are some of the factors to look for when choosing your dental implant dentist.
Ask about Your Dental Implant Dentists Qualifications
One of the most important factors is your dental implant dentist's qualifications and their experience in placing dental implants.
You may be able to find out the information on their website, but otherwise don't be afraid to ask about their training and expertise in placing dental implants.
Ideally, choose a dentist who has years of specialized training in dental implants, and who routinely places dental implants using a variety of implant systems.
Less well-qualified dental implant dentists will only usually be familiar with one or two dental implant systems at best, which is fine if you only require straightforward implant treatment, but it's not great if you need anything more complicated.
There is a vast range of different dental implant techniques and systems that can be used in specific situations. You want to make sure your dental implant dentist can choose the right implant for your needs, and that they are familiar with using that system.
Can They Provide Other Treatments You Might Need?
Some people may only need dental implants, but many people will require additional treatments such as:
Jawbone loss is very common and can occur because of advanced periodontal disease, which is a common cause of tooth loss, and the jawbone is lost once teeth are removed.
The quality and quantity of your jawbone are one of the first things your dentist will want to assess because for the treatment to be successful, your dental implants must be surrounded by healthy and strong bone that allows the implants to integrate with the jawbone fully.
When this bone is missing, it must be built up using advanced bone grafting techniques. Bone grafting is frequently necessary when restoring upper back teeth that are close to the sinus cavities because the bone is naturally thinner and weaker in this area.
An experienced dental implant dentist will also assess your gums, because if your gum tissue is also deficient, then it can make a difference to the aesthetic appearance of your dental implants and may make it less easy to keep your implants clean and free from disease.
Although these treatments are straightforward when carried out by a specialist, they do require advanced techniques that aren't available at every dental office.
What Kind of Technology Can They Provide?
Ask about the kind of diagnostic technology available in your chosen dental office. Ideally, your implant dentist will have a cone beam CT scanner on-site, but some implant dentists refer patients to other practices with this technology.
A cone-beam CT scanner produces 3-D digital images of your jaws which are highly detailed, providing your dentist with the precise location of all the essential structures in your jawbone. These structures must be avoided during implant placement and which include nerves and blood vessels. 
The images also allow your implant dentist to assess the quality and quantity of the jawbone, so your surgery can be planned to maximize the use of available bone by optimally inserting the implants in areas where the bone is thicker and stronger.
Computer-guided Implant Surgery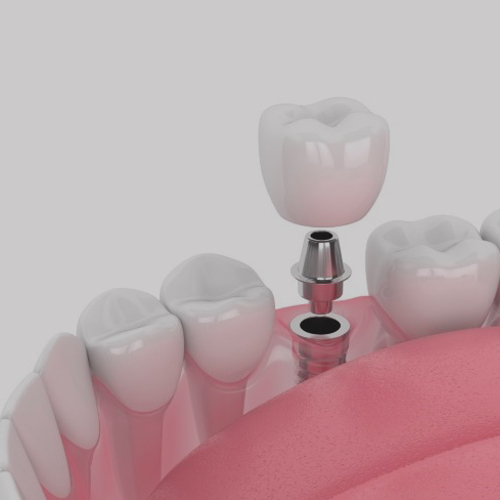 As your implant dentist plans the surgery, they also consider how your teeth will look and feel once fully restored. Digitally planning your surgery enables your dentist to ensure your implant teeth are fully functional while providing the proper support for your cheeks and lips, and of course, they should look good too!
It's an approach that you may hear called computer-guided implant surgery, and it's a great idea to choose a dentist who provides this service. The treatment plan which is created digitally is transferred to a surgical stent, a custom-made template that is used during your implant surgery. 
There are a couple of significant advantages in having computer-guided implant surgery. Firstly, your treatment is thoroughly planned behind the scenes so that when you have your surgery, it should be quicker, smoother, and more comfortable, which helps to aid faster healing. Secondly, computer-guided implant surgery helps to reduce significantly any margin of error in implant placement, ensuring your implants are located as indicated in your treatment plan. 
Ultimately, your choice of implant dentist should be someone you like and trust, because after all, you will be seeing them several times at least for treatment. But a fantastic chairside manner shouldn't replace the expertise and advanced training.