What are the Options Available for Loose Dentures?
Dentures are a tried and tested way of replacing missing teeth, but they can cause problems and especially when worn for the longer term. One of the main issues with dentures is that they rest directly on the gums.
Over time, dentures will compress the tissue underneath, which helps to accelerate the loss of gum tissue and bone. The bone that used to support your teeth isn't designed to cope with these forces, and as a result, it gradually resorbs, reducing in volume. This results in loose- and ill-fitting dentures.
Potential Solutions for Ill-Fitting Dentures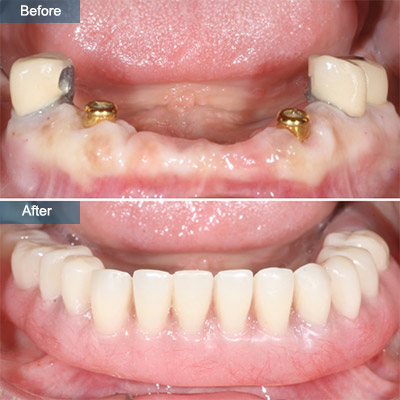 There are various solutions available to deal with ill-fitting dentures. One of the most popular options today is to have dental implants to stabilize them.
Before you consider implant dentistry options, it's important to think about whether you are satisfied with the appearance of your denture, if you can still bite reasonably well, and can you eat and chew your food properly?
The answers to these questions will help your Brooklyn dentist Alex Khabensky DDS assess if dental implants are the right solution, or if it would be better to make or adjust your current dentures, at least in the interim period.
Come see our office and meet our dentists. We can recommend the most suitable treatment for your needs, whether that is dental implant treatment or relining or remaking your denture.
Improving the Fit of Dentures
There are some things your dentist can do to help your dentures fit more securely. One thing is to reline them. Most people who wear full dentures will need to have them relined periodically, but the rate of bone loss can vary considerably from person to person.
Some people may lose bone more quickly than others and will need their dentures relining more frequently.
Usually, upper dentures tend to fit more securely compared with lower dentures, and this is because of their design. With an upper denture, the entire upper palate is covered, which creates far more suction to keep the denture in place. In comparison, a lower denture is fabricated in a horseshoe shape, surrounding the tongue and resting on the bony ridge that used to support your teeth. It is a much smaller area for the denture to rest and provides comparatively little suction.
Two different types of relines may be considered when adjusting your existing dentures.
Temporary Reline
A temporary reline can be completed while you are still in the dentist's chair. To do this, the dentist will add an additional layer of material underneath the denture, on the fitting surface that covers your gum. To do this, they will take an impression of your mouth using the reline material. This will gradually harden, filling the gap left behind where your oral tissues have shrunk. It's a solution that can help to stabilize the denture for a short period, but it is purely a temporary measure.
Permanent Reline
A permanent reline cannot be completed while you are still in the dental chair as it is an indirect technique. The procedure is very similar as your dentist will fill the fitting surface of your denture with impression material, pressing it firmly over your gums.
However, this impression is sent to the dental laboratory who will replace the impression material with a more permanent denture acrylic. It is a technique that ensures you will receive a denture reline that fits reasonably well and which is longer lasting, but you will need to cope without your denture for a day or two.
What If the Reline Isn't Enough?
If the denture reline doesn't achieve a reasonable level of fit and stability, the next stage is to consider remaking the denture entirely. This could be a more suitable solution if you have had your denture for quite a few years and if it has begun to look worn and less aesthetically pleasing.
One thing to bear in mind about having a denture remade is that it will fit very differently compared to your original denture because of the loss of bone and gum. You should be prepared for a denture that may feel a little loose still and is why dental implants are frequently considered as a far longer lasting solution.
When to Choose Dental Implants?
It is possible for a denture to be supported by dental implants, and there are several solutions available. One option is to have as few as two dental implants which can provide enough stability for a lower denture, although often four dental implants are used for greater strength.
With an implant-supported denture, you will be able to remove the denture for daily cleaning, yet it will clip firmly onto the dental implants so it will not come loose. Because relatively few dental implants are needed, this option is very cost-effective. It could be worth exploring if you have previously inquired about dental implant treatment but considered it too costly.
Another solution is to have what is called mini dental implants, which are smaller than traditional tooth implants and are more cost-effective to fit. These are placed straight through the gums, so the actual surgery is quicker, and healing is faster. Another possibility is to get rid of your denture altogether and to choose an implant-supported dental bridge. The bridge is fixed onto the dental implants by dental cement or tiny screws and is only removable by your dental implant dentist. It remains permanently in position unless it needs to be taken out for maintenance or professional cleaning.
All these solutions use proven techniques and can provide long-lasting restorations that are strong and stable, and which look fabulous. Although a fixed bridge may seem the ultimate solution, many people find an implant-supported denture will provide them with excellent results, and of course, it's that much more affordable!
Discovering More about Dental Implant Treatment
If you are considering dental implant treatment, the first thing you need to do is to visit a good dental implant dentist Alex Khabensky DDS, who offers a complete range of implant solutions. They can assess your current dental health and will talk to you about your medical health because this can make a difference to your implant treatment.
Once they have all this information, the dentist in Brooklyn Alex Khabensky DDS can recommend the most suitable treatment for your needs, whether that is dental implant treatment or relining or remaking your denture.